Roll transfer is a type of hot stamping (thermal transfer technology), and is a processing method that transfers metallic characters, patterns, etc. to a curved or cylindrical object to be transferred, which cannot be handled by the up-down method, by applying pressure or heating.
Feature of PAD printing
Possible for decorating on cylinder shaped and curved surfaces
Possible for stamping foils on leather and PP
By stamping gold and silver foil, giving the image of high quality.
Suitable place for stamping
Cylinder shaped and flat surfacess
Materials for printing
Plastics, Metal, Woods, Leather, Ceramic, Glass
Applications
IT products, Home appliance, Cosmetics, Automobile, Stationary, bottle for medicine, credit card, sports goods, etc
Samples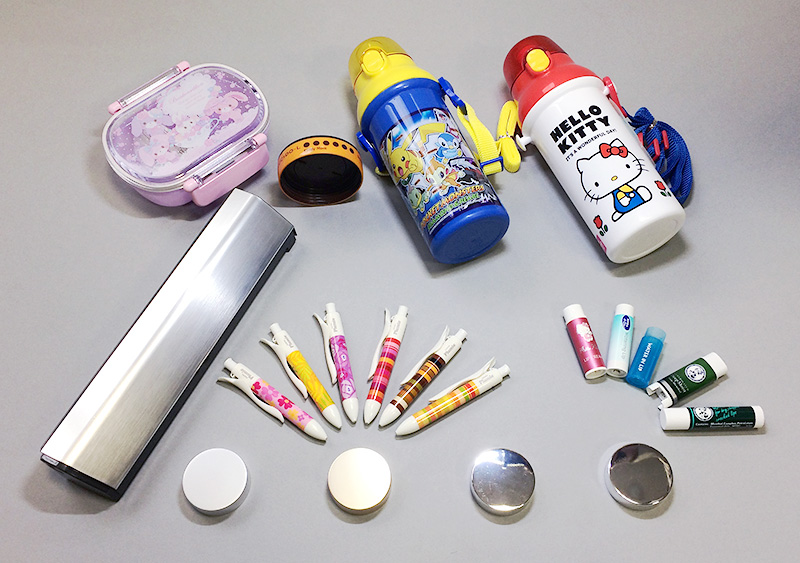 List of products
Roll
Rolling
For flat surafce
For cylinder shapes
RH-300
RH-150
RA-150
RA-150 AHS
RAS-100
V-08LDL/RU
V-08LCL/PLRU
Flat
○
×
×
A part of
cylinder shape
○
○
○
Whole circumstance of
cylinder shape
×
○
○
A part of
cone shape
△
RA-150 AHS only
×
Whole circumstance of
cylinder shape
×
RA-150 AHS only
×
Circumstance of
U-shaped
×
RAS-100
×
Whole circumstance of
Oval shape
×
RAS-100
×